Moonhack Projects
This year our Moonhack theme is Space and Innovation.  Space travel and exploration has been the creator of many items that we use in our everyday life.  Our projects this year focus on some of these - computer mouse, athletic shoes, mobile phone cameras and LED lights. Which project will you try? Scroll down to see!
Registration and submissions are now closed.
Projects will be considered for adding to our Scratch studio and Showcase page. We are looking for projects that keep the theme and message of the original project, but show innovation and creativity.

Scratch
Space Shoe
Create a game where the user can design their own space shoe.
Scratch
Looking into Space
Explore the use of a mobile phone camera to find things in space
Micro:Bit
Constellation
Program Micro:Bits to become a twinkling constellation in the sky.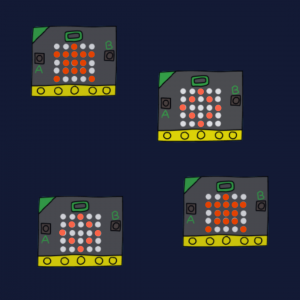 Scratch
Protect the Planet
Create a game that uses the mouse to aim and shoot at stars attcking the planet.
Python
Guess the Invention
Write a program to create a guessing game based on this idea.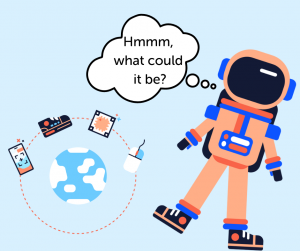 Scratch, Python, HTML - Your choice
Space Junk
Complete this design brief using your own choice of coding. Can you share an idea to solve the problem of space junk?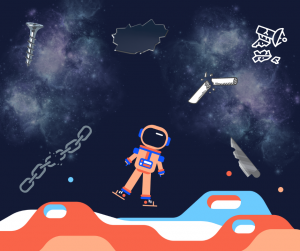 Step 1
Select your project
Read through the project options and click on the 'get started' button for the project you choose.
Step 2
Choose your language
Use the drop down menu to select your chosen language for the project plan. Our volunteers have worked hard to translate projects into many other languages.
Step 3
Download the project
Download the PDF for your project. You can choose to keep this on screen or print for your coders.
Step 4
Starting the Project
If choosing a Scratch project, use the introduction page to access the starter project hyperlink. This will give your coders the correct background and sprites to use.
Looking for more Moonhack projects?
You can access all projects from previous Moonhack events here. Try something new, build excitement, have some fun
See Previous Projects