HOST YOUR OWN MOONHACK EVENT
Help educate and inspire more kids to give coding a go, and have real impact.
MOONHACK 2023
Moonhack is a fun, simple, and educational way to get coding.
From October 10 – 26 let's #getkidscoding and learning about Space Innovations that are now part of our everyday life.  This year we have 6 brand new projects for Moonhack. Each project showcases an invention created for space exploration.
We would love for everyone to share about Moonhack so we can reach as many young people around the world as possible.  If you will be sharing on social media use #moonhack so we can keep track of what you are up to.
HOW DO I BECOME A HOST?
Moonhackathons are for any household, library, or school that wants to organise a group to participate in Moonhack.
These are independently held events, not managed by Code Club. Don't worry! We have some simple steps to get you to the moon and back.
Need some support to get set up? We've got posters, backgrounds, logos and more available to download in this folder.
STEP 1
REGISTER
Register your participation on the website to be counted.
STEP 2
PLAN
Choose your project/s that you will share with your coders. Test your tech and have a go at a project yourself.
STEP 3
MOONHACK!
Run your event and support your coders to complete a project. Share with each other.
STEP 4
DEBRIEF
Submit your project, download your certificate and celebrate! Check back on October 26 to see the final number of participants.
WIN PRIZES!
This year we have prizes for each of the project categories.  The Space Junk project is open to coders around the world!  All other projects are only open to Australian residents.  The judges will determine a winning project based on creativeness and innovation of the coding project, while keeping to its main theme.  For full T&Cs click here.
Submissions close November 26th 5pm AEST.
Winners announced December 4th.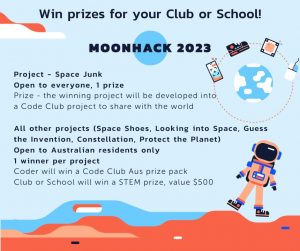 WHO IS CODE CLUB?
Code Club is a nationwide network of volunteer-led coding clubs with a mission to #getkidscoding! We are a charity with the aim of giving every child the skill, confidence and opportunity to shape their world.
All Code Clubs are free to join, and are supported by volunteers, parents, educators and our partners.
WHO IS MOONHACK FOR?
Moonhack is for all children. From first time coders to coding wizz-kids, we have a Moonhack project to progress them on their coding journey.
You don't have to be a part of a Code Club, CoderDojo or other group to participate.
Moonhack is designed for anyone who is curious to give coding a try. We also want to inspire those familiar with coding to create and share their best work!
WHICH PROJECT SHOULD I CHOOSE?
Our 6 projects will suit everyone from new coders to experts.  Check out our projects page for a guide.  Each project shows the programming language and gives an indication of its difficulty level.  On the main project page each projects shows curriculum alignment to the Australian Curriculum: Digital Technologies.